TEFAF MAASTRICHT 2023
PASSATE exhibition
TEFAF MAASTRICHT 2023

11 - 19 MARCH 2023

9 - 10 MARCH _ PREVIEW
PAINTINGS | STAND 328
HIGHLIGHTS
Giacomo Balla, One of the Leading Figures of Futurism Anticipates Pop Art
At this year's edition of TEFAF Maastricht, Antonacci Lapiccirella Fine Art (Rome) will present a masterpiece by Giacomo BALLA, Le quattro stagioni (The Four Seasons). These four paintings, produced by the artist between 1939 and '40, will surprise the fair's audience with their innovative and forward-thinking character. These four extraordinary canvases confirm that Balla, a Futurist icon, was a tireless avant-garde exponent. Creating an original new language which had nothing in common with other Italian or European experiments of that period, the artist anticipated the themes of Pop Art.
Drawing on the popular imagery of magazines, comics, and television, Balla used a technical device that simulates the effects of a typographer's dot screen on the canvas, to make his longing to immerse himself in popular culture even more explicit. With this new avant-garde concept, he did what Lichtenstein would do many years later, turning the comic book into a work of art.
Giacomo BALLA, Le quattro stagioni, 1940
Oil on board and tulle, each 110 x 80 cm (43.3 x 31.5 in.)
Signed lower: BALLA
Provenance: Casa Balla, Rome 1993; Elica Balla, Rome; Private collection, Rome
Importat Rediscovery: After Recent Acquisition of Two Panels of the Same Frieze by the Musée D'Orsay, the Largest of Three Paintings by G. A. Sartorio Will Be Showcased at TEFAF
After the recent sale to the prestigious Musée d'Orsay of two paintings by the Italian artist Giulio Aristide SARTORIO, another painting from the same frieze will be the protagonist of the stand: Avvenimento d'arte e di cultura. This majestic panel painted en grisaille in oil on canvas constitutes an important find of parts of the decorative frieze created by the artist for the Sempione International Exposition in 1906. As confirmed by the signature and date along the top right-hand edge, the panel was enriched by the artist in 1923 with brushstrokes of color on the occasion of the Cruise to Latin America of the Regia Nave Italia, a propaganda voyage aimed at presenting and enhancing Italy's culture and art.

Giulio Aristide SARTORIO, Avvenimento d'Arte e di cultura, 1906 – 1923
Oil on canvas, 98 x 392 cm (38.6 x 154.3 in.)
Signed and dated upper right: G.A.SARTORIO, ROMA, MCMXXIII
Provenance: Marga Sartorio collection, Rome; Private collection, Rome
Rediscovery of the Only Known Painting by Symbolist Lithograph Artist P.L.J. Berthon
The highly refined oil painting on panel by Paul Louis Joseph BERTHON, is the only known painting to date by the French Symbolist artist better known and appreciated for his beautiful lithographs in full-blown Art Nouveau style. The surprising rediscovery of Les Musiciennes dans un parc (Musicians in a park) has thus found a place as a "one-off" in Berthon's artistic production. Its rarity and importance are heightened by the fact that it was exhibited at the Palais-Salon in Paris in 1906.
Having trained with Eugène Grasset, Paul Berthon combined a decorative line close to that of his master in the spirit of the Art Nouveau movement with characteristic subjects of Symbolism: in this case, two beautiful female figures surrounded by a poetic and magical atmosphere fully reminiscent of the themes of the Pre-Raphaelites.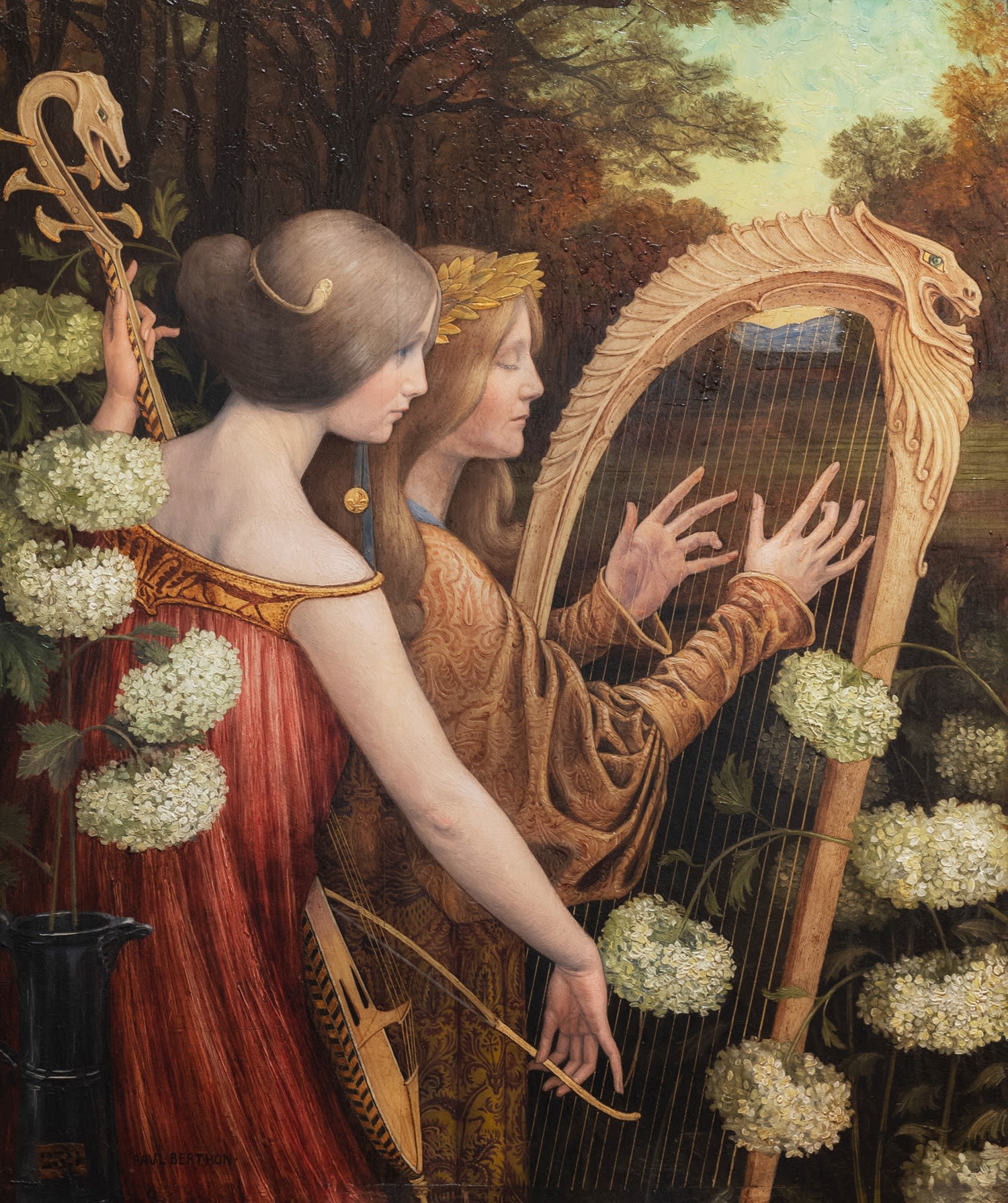 Paul Louis Joseph BERTHON
(Villefranche-sur-Saône 1872 – Sceaux 1934)
Les Musiciennes dans un parc, 1905 c.
Oil on board, 67 x 56 cm (26.4 x 22 in.)
Signed lower left: PAUL BERTHON
Provenance: Sorrento, Console Michael Senter; Rome, Private collection
Ernst Nepo's "Blue Portraits" Are Reminiscent of Viennese Secessionist and Expressionist Currents
After serving in the First World War, in 1925 Ernst Nepomucky (later nicknamed Nepo) co-founded the group of artists called "Die Waage", and just a couple of years later, became part of the Vienna Secession. Although remaining constantly influenced by Giovanni Segantini's Divisionist-Symbolist style, the works which Nepo produced in this decade were strongly inspired by the secessionist environment, with a particular eye on the highly radical style of Egon Schiele, the leading exponent of the Expressionist movement.
The drawing presented here, dated 1921, belongs to this period. It comes from an abundant core of portraits and self-portraits from the 1920s which display a formal expressive language strongly reminiscent of that of the Expressionist artists. What strikes the eye is the closeness to his angular figures in these drawings filled with a crazed tension that tell of a painful experience of existential discomfort. Many of his works, and here it is even more evident, have a strong and violent impact on the viewer, who almost adopts the position of a psychoanalytic interpreter.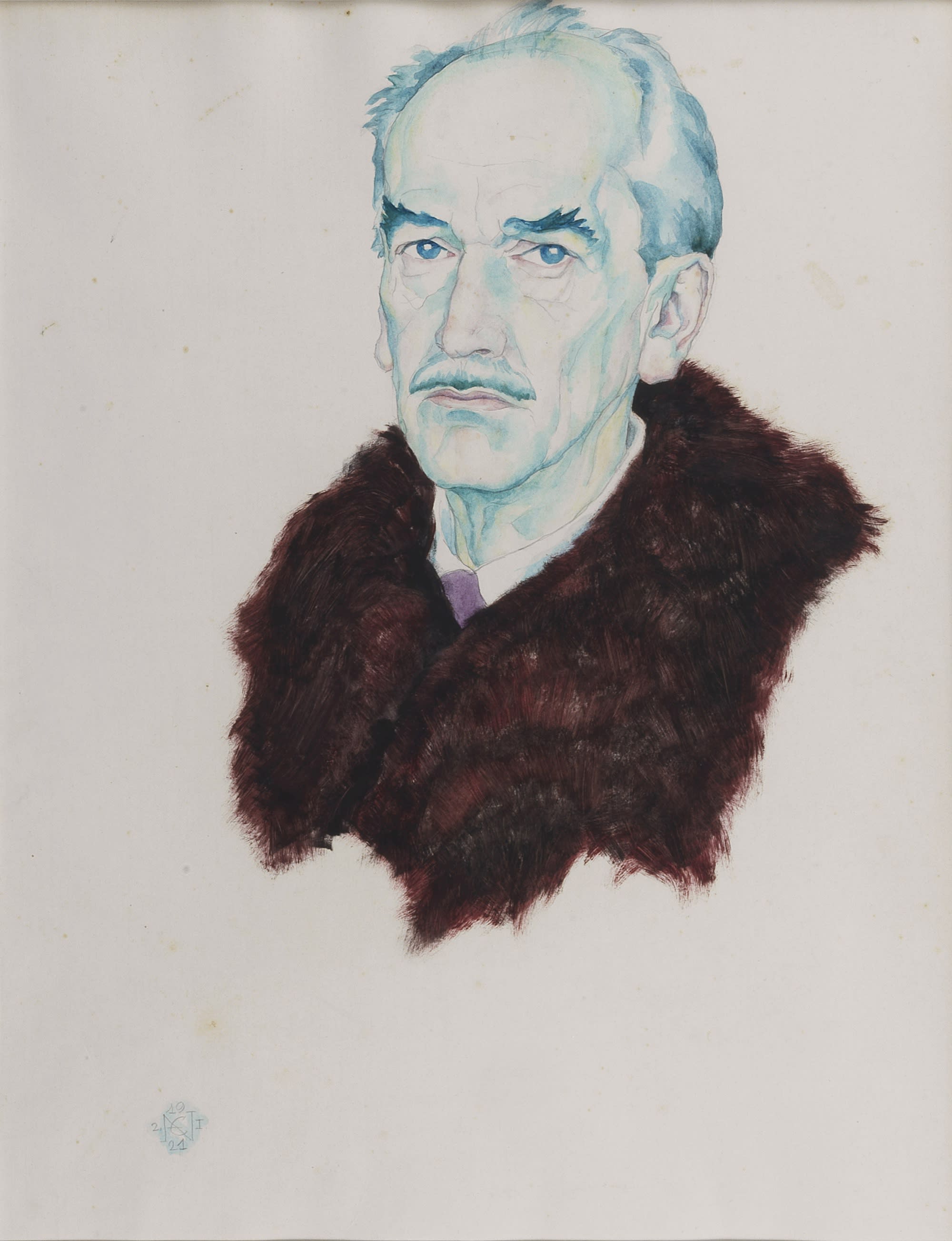 Ernst NEPO(Ernst Nepomucky)
(Dauba, Bohemia 1895 – Innsbruck 1971)
The gentleman portrait, 1921
Watercolor and pencil on paper, 65 x 50 cm (25.5 x 19.7 in.)
Signed and dated: EN 2 I 1921
Provenance:Heirs of the artist; private collection